HSC Exam Preparation with Chemistry Tutoring 

For more than 20 years, the chemistry tutors at Master Coaching Hurstville have successfully tutored hundreds of students, simplified and untangled one of the most challenging and complicated subjects the NSW HSC has to offer: Chemistry.
Throughout the years, Master Coaching Hurstville has helped to produce some of the finest students of the subject, as well as countless outstanding HSC results.
We offer one on one tutoring for this subject, as well as a free trial lesson which can be booked via our contact page.
What makes Master Coaching Hurstville chemistry tutoring methods so effective is that our chemistry tutors do not simply unload information on students as a textbook would, but instead, we strive to deconstruct complex concepts, and rebuild them in a logical sequence from their roots, giving students a full and clear picture of every idea.
After a year in chemistry tutoring I went from rank of 10 and an average mark of 75 to a rank of 2 and a HSC mark of 92. Overall I believe that master coaching was a vital ingredient in my HSC success allowing me to reach an UAI of 99.35 and entrance into Advanced Science and a scholarship under the Talented Student Program at the University of Sydney.

~ Rose-Marie Scarlato, Read the complete testimonial as well as other testimonials from previous students here.
Meet Harry
Harry Athanasatos, our lead chemistry tutor has a Bachelor of Applied Science (Majoring in Analytical Chemistry) from The University of Technology Sydney (UTS) as well as a background as a Chemistry lecturer at the University of New South Wales (UNSW) and the University of Technology Sydney (UTS).
Harry has worked as a Senior Analytical Research Chemist in the pharmaceutical industry.
Harry's extensive knowledge and experience in the discipline of chemistry is an invaluable asset for any student seeking to excel in HSC Chemistry.
HSC Chemistry is Becoming More Challenging
With the onset of NESA's brand new Chemistry syllabus, the preliminary and HSC courses place a much greater emphasis on mathematical chemistry and calculations, which, understandably, has increased the level of difficulty and confusion for many students.
Additionally, much of the new content has been extracted from first-year university and brought down into the high school senior course, making many of the topics conceptually harder to understand. These new topics include but are not limited to:
Organic Chemistry
Equilibrium Constants and pKa values
Spectroscopy Techniques
Entropy and Enthalpy
Gibbs Free Energy
Thermodynamics
We can help students better understand these complex subjects.
Master coaching helped my daughter achieve the best possible mark in chemistry for her HSC. The expert guidance under Harry's tuition was outstanding as her marks doubled from when she first started. I am incredibly happy that I sent my daughter to Master Coaching as her success in HSC would not be obtained without it.

Angela Glowacki, Read other testimonials here.
How We Can Help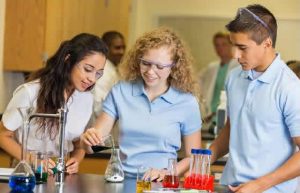 At Master Coaching Hurstville we know Chemistry is a difficult subject. We offer one on one tutoring so that students can feel comfortable asking questions and get individualised attention.
Our expert tutors have the expertise and background to identify what's important to help students to succeed in this brand-new environment.
We lay strong foundations as early as possible (Year 10/11). This means attaining a comprehensive level of understanding of the fundamental skills in chemistry: writing chemical equations, solving simple mathematical equations, and being able to understand and interpret basic chemical reactions, among others.
Once these foundations are in place then the remaining content will fall into place for the student, providing the student with a full understanding and insight into the course.This is where Master Coaching Hurstville's over 20 years of experience in Chemistry Tutoring comes into play. Rather than taking students on a deep dive through the mysteries of complicated textbook paragraphs and complex mathematical equations, we build students' confidence and skills from the ground level up. As the student's confidence increases, our chemistry tutors put into place the remainder of the course, leaving the student with an extensive level of knowledge and ability, as well as effective methods to tackle exams and assignments, including the Depth Study.
Given our background in university education, our lead chemistry tutor, Harry, has an inside-out grasp of the new content and vast chemistry resources that many teachers would not possess, allowing us to pass down this invaluable knowledge and skills to students to maximise their HSC Exam techniques.
Building your key skills is an important task to accomplish early, which is why our chemistry tutors at Master Coaching Hurstville encourages Year 10 students who intend to study Chemistry in their senior years to contact us as soon as possible to allow themselves to get ahead of their cohort, and feel comfortable, prepared and confident for the years ahead!
Nevertheless, no matter what year you are in, or your current ability, we adapt each of our lessons to suit the level of the student, allowing them to reach their full potential when it counts!
The help of my Chemistry tutor Harry taught me many aspects and nuances of chemistry that made it easier to not only comprehend, but also many ways in which to calculate different questions that were different to the techniques taught by my teacher, but significantly better by a large margin. He didn't just tell me what happens when explaining the different concepts in chemistry, but also why and how it happens; these extra few steps have established a strong basis of my understanding of chemistry that will later come into fruition as I make my journey towards the HSC.

~ C. Eusebio, Read the complete testimonial as well as other testimonials from previous students here
Get in touch with us today to book your free trial lesson, and see how Chemistry tutoring can help you understand this complex subject.